Vibe™
Discover the vibe around you from nearby instagrams, tweets, and vibes
The Vibe "Around There"
Discover the social media vibe at any location in the world.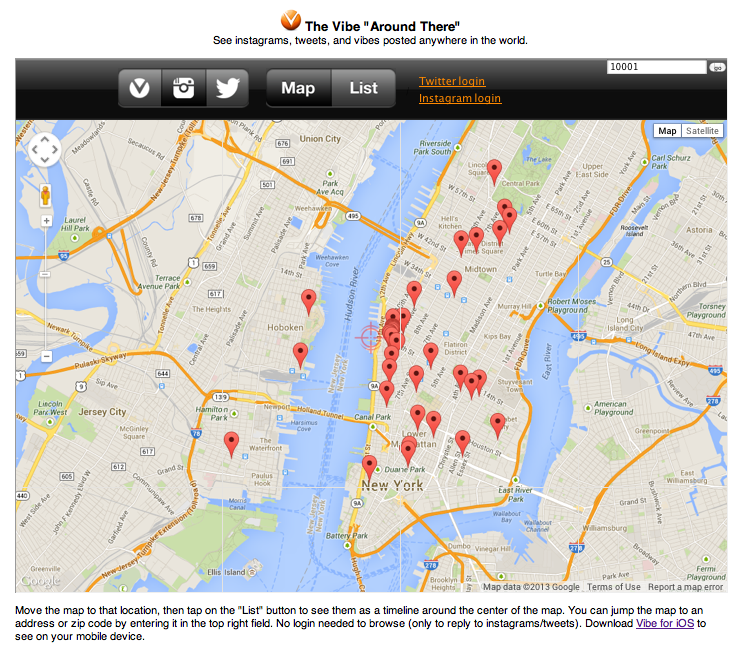 Testimonials
"Simple & Authentic – like Twitter was at first.  With a twist – location and relative anonymity." Sarah Chambers, July 11, 2012
"New kind of messaging – Love this.  Great tool for a whole new kind of location-based connecting.  Have used it to discover people and info directly relevant to my locale.  Planning a big treasure hunt using it!" hattery0501, Jun 28, 2012
"Should be more popular, great app  – This is one of the most interesting concept for communication App, works great and is fun.  This isn't more popular probably because no one has heard of it.  Developer needs to advertise the product."  Hastings101, June 6, 2012
"Beautiful – I love this. It's an insanely new approach to social networking." Ztr7, May 29, 2012
"Thank you! – I'm so glad someone finally made something like this!  It's a different kind of social networking, filling a role that Facebook and similar "networks" don't.  I love that there is no cache of personal information for apps and advertisers to mine, or for burglars to know their next target while you're publicly announcing your vacation, no constant Facebook changes without you being notified so suddenly your privacy settings are pointless, no getting your account hacked and having all your private info made vulnerable, no trying to figure out the privacy settings in the first place… If your data isn't there to begin with, it can't be abused!… Jan Marie Garrett, May 28, 2012
Features
iOS & Android:
No registration, login, account or profile
Post messages where you are.
Post images
2,000 characters limit per message or reply
Social anonymity.
Hashtag support
Private communication channels via ## passwords
iOS only:
Post messages anywhere in the world.
Upload 30-second video and 60-second audio recordings
Animated GIF support
URL links for web pages and videos
Direct/private replies.
Expire and permanently delete own posts
Alerts (replies and new messages)
Unattended mode (for Vibe Wall installations).
Font size and color
Vibe for business
Vibe makes it easy to create a private communication channel for a group of people anywhere around the world.  One that coworkers (and clients) can use to share status updates, news, images, without using email or SMS.
All you have to do is come up with a combination of letters and numbers that'll be the ## password to your channel, then post your messages using that ## password in the message body.
To see an example, search for ##demo24″ on Vibe.  You can reply to the messages there or add a new one using the same ##.  They all become part of the same channel.
After checking out the ##demo24 channel, start your own new channel using your own ## password, then share it with your coworkers as a way to communicate with each other on the go or in distributed locations.  You still get all of Vibe's geo-located message features but with the added privacy of your own ## channel
News
Tuesday, October 23, 2012
Vibearound releases Vibe 2.5, a major update that adds direct audio and video upload to this unique location based social network.  Audio and video message can be left anywhere in the world for designated recipients.
Discover the social media vibe at any location in the world.
Today is St. Nicholas Day. http://en.wikipedia.org/wiki/Saint_Nicholas Traditionally today is celebrated by leaving goodies in the shoes of children and loved ones. We DARE! you to leave some goodies behind for a friend- IN THEIR SHOES! Take a picture of the … Continue reading →
#31DaysofDares Every day in December we are going to have a new DARE! for you to complete. Each DARE! will be posted at Noon (EST), if you've missed a DARE! don't worry you can go back and complete any you've … Continue reading →
Version History
Vibe 2.5.1 (released November 6, 2012)
Add option to easily post photos/videos at location they were shot with date/time stamp
Improved workflow for posting pictures, audio, and video clips.
Vibe 2.5 (released October 23, 2012)
Posting video and audio recordings
Animated GIFs
New home screen launcher UI
Cross posting to facebook.
Vibe 2.4 (released September 14, 2012)
Vibe 2.3 (released August 28, 2012)
Vibe 2.2 (released August 13, 2012)
Vibe 2.1.5 (released July 30, 2012)
Vibe 2.1 (released May 15, 2012)
Vibe 2.0.1 (released May 1, 2012)
Vibe 2.0 (released April 26, 2012)
Posting at remote locations
Alerts
Ability to expire/close one's own posts
Ability to view threads started and threads joined.